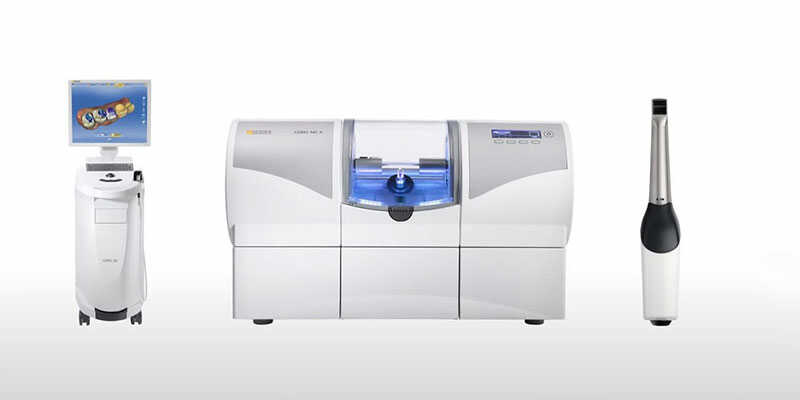 CEREC is an acronym:
Chairside

The technology is in the dental operatory and used while you are in the chair.
Economical

The procedure is economical for both the dentist and patient.
Restorations

The procedure restores your tooth to its natural beauty, function and strength.
Esthetic

The restorations are metal-free and tooth-colored.
Ceramic

CEREC uses high-strength ceramics that are close in composition to your natural tooth structure.
CEREC is an advanced dental restorative system that allows your dentist to restore decayed teeth, remove defective amalgam fillings or place crowns in just one appointment. This allows you to have the highest-quality, most lifelike dental restorations in just one visit to the dentist. You will be in, out and on with your busy life.
Dental onlays are used to repair damage or decay. If the damage is not extensive enough to warrant the use of a dental crown but is too serious to be repaired with a filling, our experienced dentist may recommend a dental onlay. Also known as partial crowns, inlays and onlays are custom created from porcelain or composite resin material. Our dentist will ensure that your custom onlay perfectly fits your tooth to restore the health, function and appearance of your smile. Once placed, they are virtually undetectable in the mouth and conserve much of your natural tooth structure.
Post and Core
Post and core treatment is often recommended for patients with teeth that have lost more than 50% of their original structure due to decay or dental trauma. Post and core treatment helps restore your oral health by filling in and reconstructing the tooth.
To schedule your consultation with our dentist, Dr. Disha Pennington, please call our office today at 330-668-9830 and learn more about CEREC same-day restorations in Copley, Ohio. Our CEREC restorations include dental inlays and dental crowns.
CEREC® is a registered trademark of Sirona Dental Systems.